Invisalign™ Aligners
Smile with Confidence
As a Diamond II Provider of Invisalign, you can be confident that your teeth straightening journey is in good hands. he world's most advanced clear aligner treatment. No wires. No brackets. Just fast-acting, discreet and comfortable clear aligners that are almost invisible to the eye! Nobody will be able to tell you're wearing them.
As the world's most advanced clear aligner treatment more than 9 million people worldwide have chosen Invisalign clear aligners to give them the straight smile they've always dreamed of.
How does Invisalign® work?
Invisalign® uses 3-D computer imaging technology to depict the complete treatment plan from the initial position to the final desired position from which a series of custom-made 'aligners' are produced.
Each aligner moves teeth incrementally and is worn for about two weeks, then replaced by the next in the series until the final position is achieved.
What's more, a virtual 3D treatment plan (ClinCheck©) shows the series of movements your teeth will go through over the course of treatment. This allows you to see upfront what your teeth are expected to look like at the end of the treatment.
From the results of the ClinCheck© treatment plan, your custom-made, clear aligners are produced especially for you.
Why do people prefer Invisalign
Clear
Invisalign® aligners are virtually invisible so hardly anyone will know that you're straightening your teeth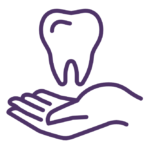 Removable
Invisalign® aligners can be removed to eat, drink, brush and floss. They can also be removed for special occasions
Comfortable
Invisalign® is comfortable as there are no metal brackets or wires to irritate your gum on the inside of your mouth
Effective
Even before your Invisalign® treatment is finished you will begin enjoying the benefit of a straighter smile. Teeth alignment will start right from the beginning
Customised
You can view your virtual treatment plan before you start which means you can also view your finished result
Straight teeth with Invisalign® in three easy steps
1
Arrange a no obligation free consultation with our Invisalign® provider. You can explain your specific requirements at this consultation. The approximate duration of treatment, treatment plan and cost will be discussed at this consultation.
2
Upon accepting the treatment plan we take accurate impressions of your teeth and detailed photographs of your face, profile and smile. This is sent to Invisalign® who create a 3D image using 3D scanning technology in order to produce a detailed analysis of the number of aligners required to straighten your teeth
3
After a few weeks your entire sequence of aligners are ready to collect and full instructions on usage and maintenance are provided for you. Each aligner gently guides your teeth into the correct position and is worn for two weeks, before moving to the next aligner in sequence and usually lasts 9-12 months. Your dentist will monitor your treatment progress approximately every six weeks.
We are an Invisalign Diamond Provider
There are four tiers of certified Invisalign Providers.
Preferred Provider
Performs a minimum of 10 cases of Invisalign per year.
Premier Provider
Has treated 50 cases of Invisalign total and performs 25 cases every 6 months.
Elite Provider
Has treated at least 300 cases total and performs 50 cases every 6 months.
Diamond Provider
Top 1% Provider – Has treated at least 800 cases total and continues to perform 200 cases per year.
Digital Dentistry
The Invisalign Itero Scanner
We are delighted to offer the latest intraoral scanning technology. The iTero scanner is used at the start of Invisalign treatment to capture images of your teeth. Using a small wand, we scan your teeth to create a 3D digital model. This digital model is used to plan your treatment, allowing us to see your Invisalign journey on screen step-by-step.
One of the most exciting features of the iTero scanner is its ability to show you how your teeth could look following treatment. It's a great way for you to see your new smile before treatment. The digital scan provides greater precision, resulting in aligners that fit your teeth perfectly.
Frequently Asked Questions
Why should I consider Invisalign?
Because Invisalign aligners are nearly invisible, no one will even notice you're in treatment (unless you tell them).
What are the aligners made of?
Invisalign aligners are made of strong medical grade, virtually invisible thermoplastic material, developed for the Invisalign system and custom made for you.
How long will my Invisalign treatment take?
The duration of your treatment will depend on your individual requirements. Typically, treatment lasts between 9 and 18 months, but we will provide more information during your consultation.
Is Invisalign treatment painful?
You may experience some very minor discomfort at the beginning of each new stage of treatment, typically described as a feeling of pressure. This is normal, and is a sign the aligners are working. Any discomfort should go away after a couple of days.
How often do I need to wear my aligners?
You should only take your aligners out to eat, drink, brush and floss your teeth.
Will my speech be affected?
Most patients have no problems at all, however you may find there is a minor adjustment period while you get use to wearing the aligners.
Can I smoke or chew gum while wearing my aligners?
We advise that you remove your aligners for all meals, snacks, chewing gum or smoking to keep your aligners clean and bright.
Who is suitable for Invisalign?
Invisalign is a cosmetic treatment designed for the front 'smiling' teeth – so if there are deeper problems concerning bite and function, your dentist may recommend an alternative treatment. Both teenagers and adults can have Invisalign treatment.
How much does it cost?
Depending on the complexity of your treatment, costs range from £1995 for minor movements to £3995 for more complex cases. All Invisalign treatments include a free oral health examination, smile simulation and free home teeth whitening to keep your new smile looking its best.
The best way to get a confirmed cost for treatment is to book a free consultation. There is no obligation and you'll be able to see your new smile in 3D too.
Payment options to suit every budget
5% Discount
Pay for your treatment in full and get 5% off
Interest Free
Choose our 12 months interest-free finance.
Pay Half
Pay 50% upfront and spread the rest over the treatment length.
9.9% APR
Spread the treatment cost over 2 – 5 years.